I recently moved to join my job in Florida and my apartment is on the third floor. As opposed to other parts of the city, this region is not congested. I had to go to the pet house last Sunday since I was becoming lonely without a pet. It was the weekend, and I had intended to leave in the afternoon. The entire sky was clouded, and it was almost time to rain.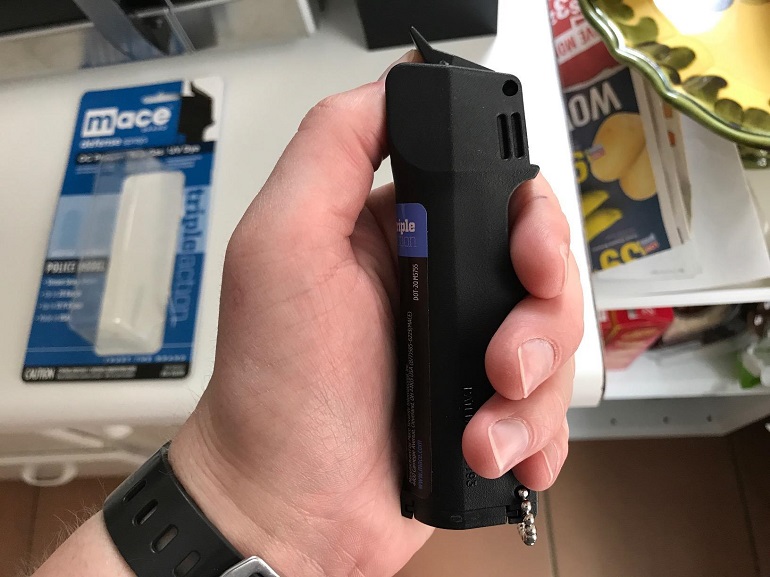 I immediately felt like someone was stalking me while I was making my way to my car. A thief was attempting to take my pocketbook. I blasted pepper spray directly into his face after swiftly opening the can. He backed off in discomfort, and I simply jumped into the car and drove off.
I must live and travel alone because I am a working woman. I don't like weapons or handguns, so I prefer to employ self-defense items, especially pepper sprays. I've tried a lot of sprays, so I thought I'd blog about my personal experience.
After reading it, I hope you'll benefit from it and be able to select the option that's ideal for you.
9 Best Pepper Sprays for Women
1. Mace Brand Tripple Action Pepper Spray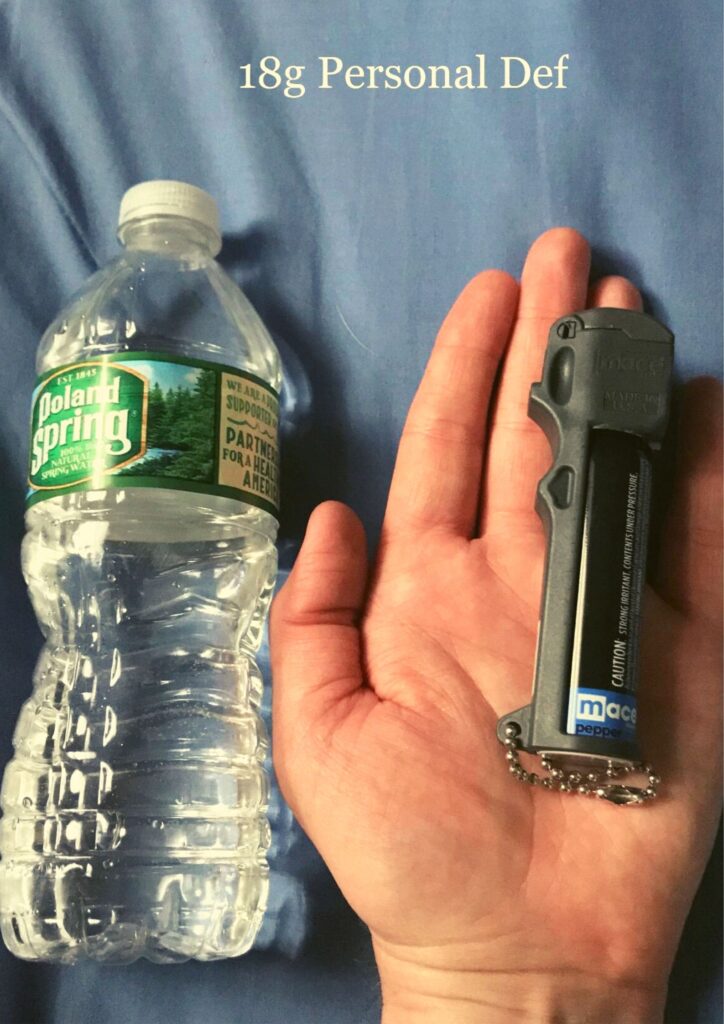 Mace brand is known as the premier maker of maximum-strength pepper sprays and personal protection tools. However, you might not even be aware that Mace is a separate brand name because it has become so intertwined with pepper sprays.
This advanced triple-action pepper spray canister has a powerful stream spray pattern with a range of up to 10 feet. Its 3-in-1 formula is a unique combination of OC pepper spray, tear gas, and UV dye. UV dye leaves a long-lasting residue to support the investigation or identification; similarly, the tear gas and OC formula cause impaired vision, burning sensation on the skin, and shortness of breath.
This amazing self-defense spray is convenient and safe to use when you are in distress. This pocket-sized pepper spray has a flip-top safety feature that prevents accidental discharge and misfires and makes it the best pepper spray. Its compact design provides a strong finger grip.
Specifications
3-in-1 formula
Maximum strength formula with 10% OC
Flip top safety cap
Built-in key chain
Built-in belt clip
Weight 12 grams
Actuator button
Spray capacity up to 15 bursts
2. Mace Brand Mini Keychain Pepper Spray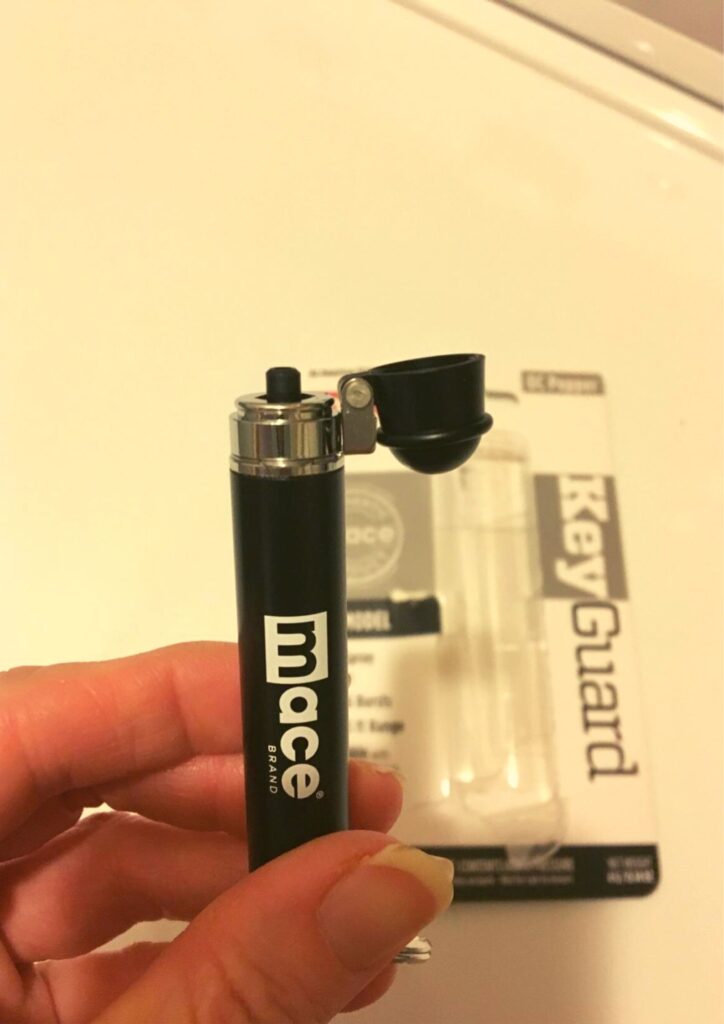 This mini key chain pepper spray is another proud presentation by the Mace brand. People like to carry tools that are lightweight and pretty handy. For example, in your regular key ring, you carry a bottle opener, pocket knife, bike or car keys, and club cards. So I know carrying pepper spray in your key ring wouldn't make you feel comfy.
The powerful pocket-sized self-defense pepper spray is extremely useful for indoor and outdoor usage. The strong OC formula of the pepper spray gives the ultimate protection by causing sensation to the skin, nose, and eyes. It shoots in a cone spray pattern that creates a wall of pepper spray toward the attacker's face.
Compared to other pepper sprays, Mace offers this super cute, lightweight mini keychain pepper spray. Interestingly, your regular pencil is a little smaller than it, and it is a couple of inches long. However, the compact design canister can discreetly go with you by swinging in your key ring.
Specifications
Black sturdy case
Flip top safety cap
Refill unit
Built-in key ring
Contain up to six bursts
Range up to five feet
3. Mace Brand Personal Pepper Spray (Hot Pink)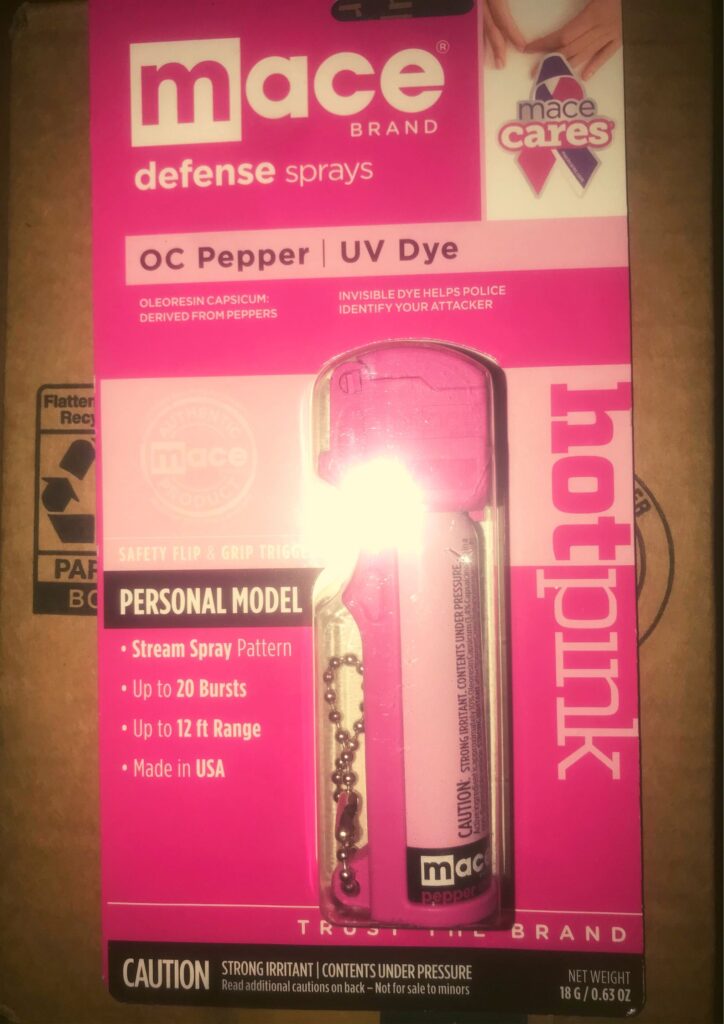 Personal protection with self-defense sprays becomes more effective and convenient when you pick this hot pink unit. As you are convinced that there is power in being prepared, this pink hottie makes you prepare to ensure your protection wherever you are. This pepper spray gives you protection in a unique style.
In addition, the advanced delivery system of the pepper spray provides long-range in dangerous situations. Like other mace pepper sprays, this unit also comes with a powerful formula that helps to deter the attacker by causing respiratory distress, itching to the eyes, and UV dye leaves a long-running residue which helped in the investigation.
This pocket-sized pepper spray is convenient, and its unique design provides an easy grip and prevents accidental discharge and misfires. In addition, this pepper spray canister has a seal for authenticity, making it easy to identify from other brands. The seal is the guarantee of quality.
Specifications
Finger grip design
Built-in keychain
Flip top safety cap
Stream pattern 20 bursts
Built-in belt clip
Range up to 12 feet
Effectiveness last for 45 minutes
Red actuator button
4. Mace Brand Pepper spray Gun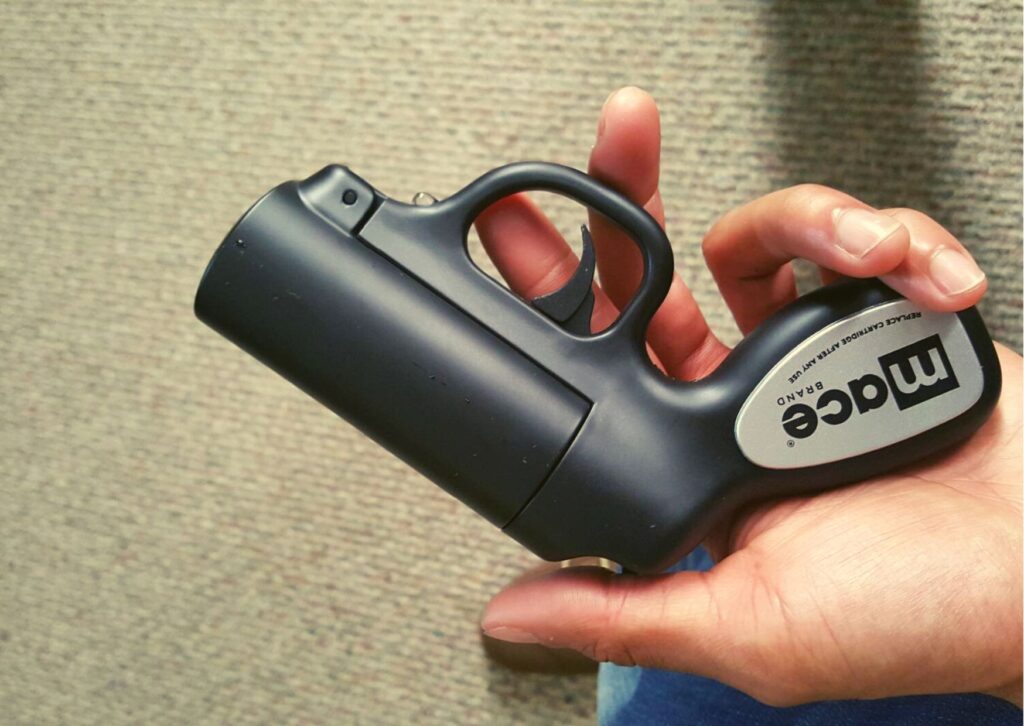 Are you in quest of a self-defense pepper spray that resembles a pistol or gun? Then this is the right thing you This pepper spray for self-defense is another exciting presentation by Mace. This pepper spray gun is extremely powerful, non-lethal, tiny, portable, and easy to use.
This gun-shaped pepper spray causes severe mucus membrane swelling when sprayed toward the attacker's face, temporary blindness, and respiratory disturbance. In addition, it can hinder them for an hour which is sufficient time to escape.
Furthermore, the pepper gun comes in different sizes and colors, and you can choose according to your choice. This Mace pepper spray gun features an easy load and pistol-grip design that maximizes point-and-shoot accuracy, while the slide-release switch prevents accidents or misfires.
Specifications
Strong OC formula
UV dye feature
Integrated led light
Travel friendly
Separate solid holster
Range 20.0 feet
Slide release switches
Advanced delivery system
5. SABRE 3-in-1 Pepper Spray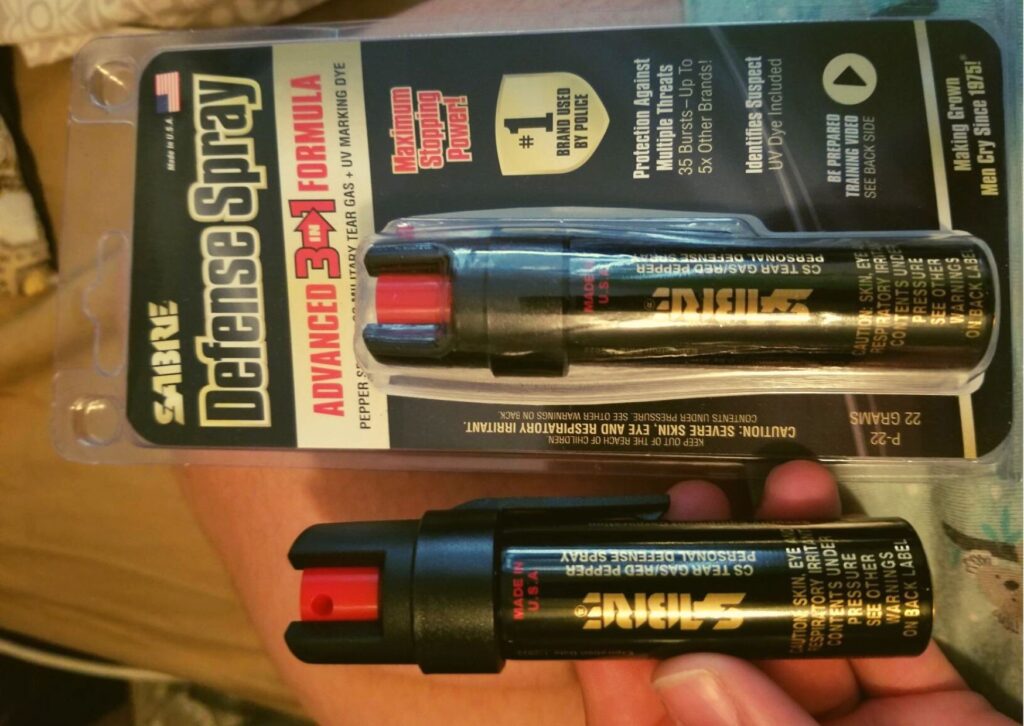 SABRE is undoubtedly considered the best manufacturer among other pepper spray brands. In addition, an independent study by the University of Utah has proved that only SABRE pepper spray canisters have the accurate and maximum strength formula, free from 30% active ingredients.
This red pepper spray is an advanced combination of three-in-one formulas, which makes it the best pepper spray for self-defense than other ingredient sprays. Including cs tear gas in the pepper spray heightens the burning effect of the spray, invisible UV dye helps in identification, and oleoresin capsicum causes severe pain in the eyes, throat, and nose.
This self-defense weapon works great as a discreet tool and is a great substitute for key chains. You can easily carry it wherever you go, or it can also be attached with the help of a clip to the pocket or the clutch.
Specifications
Best maximum strength
CS tear gas+ UV dye+ red pepper
Range 10 feet
Strength 35 bursts
plastic material
Pocket clip
weight 0.79 ounces
Black pepper spray
6. SABRE Red Pink Pepper Keychain Pepper Spray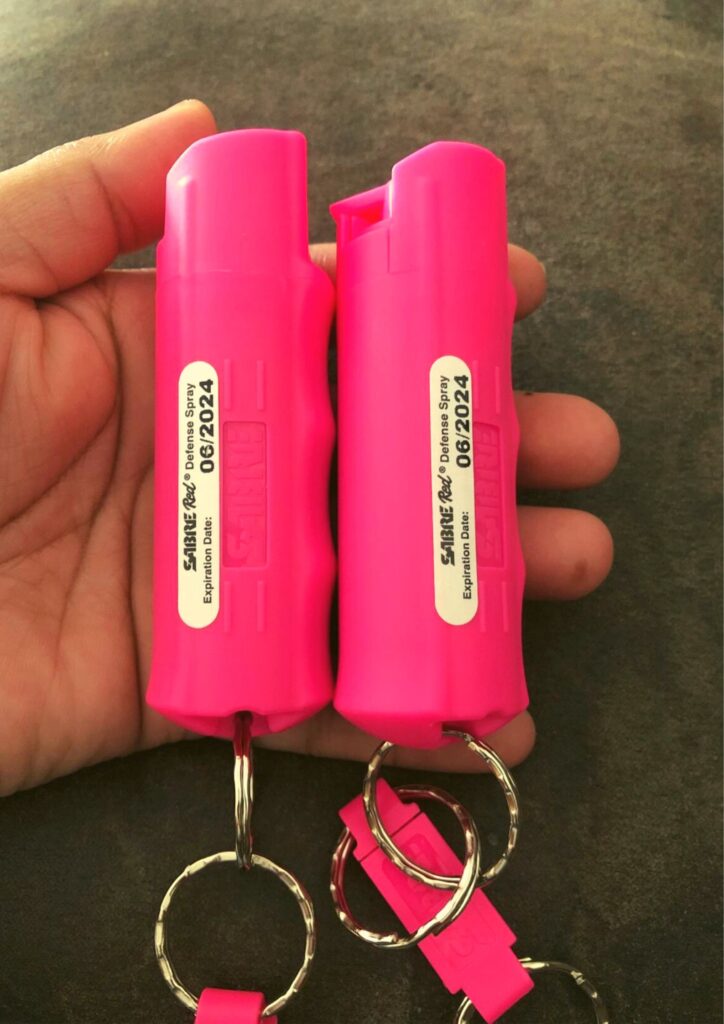 As mentioned earlier, SABRE is a notable brand frot producing guaranteed maximum strength in-house lab-tested pepper sprays. This brand is highly trusted by police officials in most states as well. This brand also contributes to society's welfare by donating to the National breast cancer foundation.
SABRE red, pink pepper spray comes in vibrant pink color, making it a darling for all ladies. Its strong finger grip helped to support you take perfect aim of your grasp, and you can easily keep your eyes on your target. In addition, the UV marking dye helps in investigation and identification.
Its compact and sleek design makes it easy to carry and access. Its twist lock helps to prevent accidental discharge. Due to the pink color of pepper spray, it might look innocent, and you may doubt its performance, but remember it has all the same maximum strength formula power that other SABRE pepper sprays contain.
Specifications
Lab tested maximum stopping power
Quick release keychain
Reinforced twist lock
Strength 25 burst
Pocket clip
Weight 0.01 pounds
Range 10 feet
Four-year shelf life
Plastic material
7. Fox Labs Mean Green
Fox labs is another famous brand for producing the hottest pepper sprays around the globe. It is also well known for producing 5.3 million SHU (Scoville heat units) each canister. As reflected in the name, it has a bright green UV marking dye, eliminating the need for a backlight to show up on skin or clothes. Additionally, it needs a lot of effort to wash it off, which helps the police recognize the culprit.
It has another amazing feature spring-loaded flip-top units. It quickly becomes the unit of choice because the safety flip top prevents accidental discharge. You just need to put your finger or thumb under the top; it rises easily with spring and depresses the button for a powerful blast.
The Fox lambs are also known for making products that can easily use with other self-defense weapons. So, this pepper spray makes your protection more unbreakable by using tasers, stun guns, and knives. In addition, these hot peppers don't have an expiry date.
Specifications
Heavy fog spray pattern
Vegetable base green dye
Non-flammable
Range 10-12 feet
Weight 0.19 pounds
Searing 3,000,000 SHU formula at 6% concentration
180,000 SHU out the nozzle
1.2% of total capsaicinoids
8. Wrist Saver Pepper Spray For Runners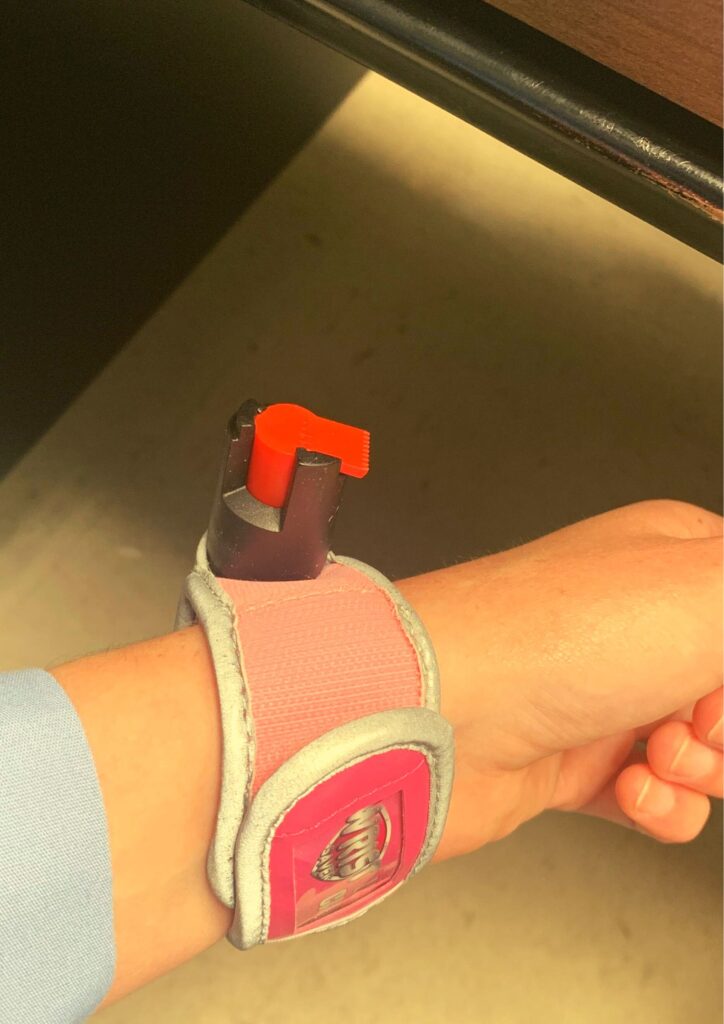 Wrist saver is another best pepper spray manufacturing name in the pepper spray world. The idea of producing a wrist-attaching pepper spray was established after the increasing attacks on female runners.
This non-lethal every day carry pepper spray provides easy access while running, driving, working, exercising, and performing other tasks. Its strong and straight spray pattern reduces wind blowback, giving more guaranteed protection than a bear spray available on the market.
This compact canister has a lightweight strap to snug your pepper spray around your wrist securely. It gives you quick access and peace of mind in emergencies. It is designed to keep your ID card and money in it in case of any emergency. The strap is designed with lighting material to enhance your visibility even from miles away.
Specifications
Strong spray pattern
Range 12 feet
Built-in emergency card holder
Twist lock top
Adjustable hand strap
Industrial Velcro strap
High reflective edges
LED light
9. Kimber Pepper Blaster II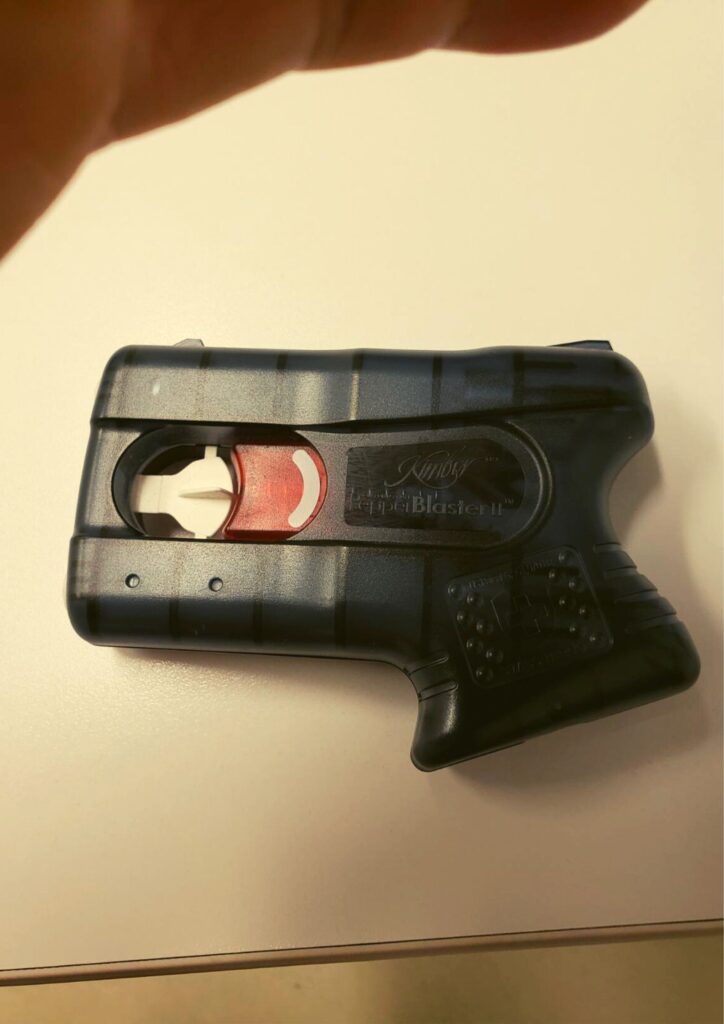 If you are looking for a pepper spray that can make you feel like a gun in hand, then this is the right product for you by Kimber. This fabulous gun-shaped pepper spray discards the traditional sprays and gives you excitement while using it.
This revolutionary self-defense pepper spray provides an adjustable grip, making it easier to aim and keep the attackers in their tracks. It can disable the attackers for up to 45 minutes. Unlike other aerosol sprays, there isn't any chance it will lose pressure over time.
It is designed to reduce the wind blowback and chance of drifting and is available in different sizes, so it easily fits the very hand. Kimber pepper blast is a little pricey, and it is a single-use gun, so after two bursts, there is a need for a new one.
Specifications
The non-aerosol pyrotechnic delivery system
10% OC (2.4% capsaicinoids content)
Benzyl alcohol for viscosity
Swing away trigger guard
Shoots a 112 MPH
Weight 0.42 ounces
Single-use gun with two bursts
3. What to Consider When Buying Pepper Spray
These are some important considerations you should consider while you aim to buy pepper spray. All these things are crucial and affect the functionality and performance of the pepper spray.
Formula
There are different types of ingredients used in a pepper spray such as OC, oleoresin capsicum, major capsaicinoids, and Scoville heat units. The concentration of these ingredients makes these sprays legal and non-legal as well. Some brands offer a practice spray with an original canister to test the product.
Every state has its local laws for determining the quantity of these ingredients.  OC is derived from chili peppers and it is not only the main ingredient but also used to regulate the pepper extract in the formula. For example, New York has known for its strict pepper laws of 0.67% concentration.
The higher concentration from this point would be considered illegal. And might be the lower concentration ns will not work effectively. MC is often between 0.18 to 1.33% and SHU in the measurement of 5.3 million, but remember don't confuse this higher figure because SHU is only used for the strength of spray, not the total formula strength.
Every formula is different and all the formulas are equally spicy although they are derived from the hot chili peppers not all peppers are the same. These ingredients are extracted from the bear spray as well. Besides it, some ingredients are extracted from bear sprays as well. Also, the formula is designed to produce long-lasting, UV making whenever you need it.
Spray Pattern and Range
Different things affect the range and pattern of the spray. For example, affects the nozzle of the spray makes the uniform distribution at the wider range, and also affects the flow rate angles and what pressure they consume as well. Spray patterns are different like narrow, standard, and wider angles.
The range and spray pattern also depend on the type of spray as well, like whether it is fog, stream, foam, or gel spray. As a substitute for aerosol pepper spray, pepper gel spray is also used. Both have different streaming patterns like cone, stream, and fog. Pepper gel spray gives an accurate and continuous stream than foam or cone pattern.
Different brands are available on the market to prove the best pepper sprays but SABRE red pepper gel spray is considered the best pepper spray among other defensive sprays. The spray pattern and range of your spray effects either positively or negatively yourself-defense. There are different ranges when it comes to using pepper spray.
Furthermore, Ideally, pepper spray has a range of about 10 feet. But every pepper spray by different brands comes with a different range because this valuable tool makes sure your safety mechanism from a distance. It also depends on the type of spray as well which you are using. For example, the SABRE red pepper gel spray offers a different range and the mace offers a pepper gel spray with a different range.
Size
The size of a pepper spray plays an important role in the selection of pepper spray. It all depends on your comfort. Always choose a size that with you find ease and peace of mind.
There are numerous types of sizes available on the market such as small or compact, keychain, and large sizes. Smaller or compact pepper sprays are easy to carry and conceal and they come in adorable fashion styles.
Keychain pepper sprays are a little bigger than smaller pepper sprays. With the help of keychains, they can attach to your bag's strap, pocket clip, and keyring. They also come with high-strength and sleek designs. SABRE red pepper gel spray is a perfect key chain self-defense weapon.
Lastly, large pepper spray is the best spray for home security. They come in gel form so they don't blow back and give ultimate security. They also have the ability to bursts more than others and greater range as well. There are some multipurpose pepper sprays are available in the market, they come with additional accessories such as a flashlight, alarm, siren, cutter, etc.
How to Use Pepper Spray
Pepper Spray is a highly recommended safety tool for self-defense. But keep in mind no matter what defensive gadget you are using it all depends on the way you are using it. Follow these steps to hold your gadget in the right direction.
Grip
Sadly, a lot of people wield pepper spray incorrectly. You shouldn't hold it with your pointer finger on the actuator like you would a can of hairspray or paint. When using pepper spray, the proper method to hold it is with your thumb pressing the actuator while holding it upright in the palm of your dominant hand.
An assailant will find it more difficult to grasp or knock the spray canister out of your hand if you have a firm hold like this. Don't forget to unlock the actuator by turning on the safety switch or flipping the tops of your defensive tool.
Aim
The second significant step is to aim. You should aim the canister such that it sprays your attacker rather than yourself. It has a chemical irritant effect and it causes severe effects on the skin, eyes, nose, and respiratory system. However, you'd be shocked at how frequently people unintentionally spray themselves!
Second, if at all feasible, try to hit your assailant in the face. Pepper spray will still burn them if it comes in contact with them in any way, but you should aim for the face if you want to stop them in their tracks long enough to get away or prepare a serious defense. Otherwise, all you've accomplished is angered them.
Warn
A verbal warning, if you think is reasonably possible, is one of the most crucial components of legal self-defense. A clear warning that you don't want violence will be given if you say to an assailant that you'll use pepper spray to defend yourself. But it doesn't mean you are afraid and a coward. Your warning sounds louder and your body language must look confident.
Of course, each self-defense circumstance is different. As a result, you should only provide a warning if doing so is safe and only after becoming ready to protect yourself. Additionally, you should be aware that threatening an assailant with pepper spray is not as likely to deter them as threatening them with a weapon would.
Spray
The preceding three stages should be automatic if your warning didn't work and now there is no second choice left just take a few brief seconds. At this point, you are prepared to spray but don't forget to maintain a safe distance. As previously stated, a correct grip entails having your thumb on the actuator and being prepared to spray at any time.
For a full spray, you need to apply pressure forcefully and for a long period of t least 1-2 seconds. You should be aware of how your pepper spray disperses and behave accordingly. Every brand and canister sprays differently. The spray can vary in consistency from a real mist to more of a stream at times. In either case, be sure you are familiar with your pepper spray.
Escape
Lastly, after use of your defense tool don't think to stand there to enjoy the after-effects of your attempt, LOL it is better to go away from there. You know these hot canisters have featured with the UV marking dye which leaves a residue over the skin or clothes of the attacker and it assists the police in investigation or identification. So, just after the application of your defense tool run away and call the police to help.
FAQ's
What Is the Difference Between Mace and Pepper Spray?
Well, both of these terms are entirely different. Mace is a brand that is known for producing the best quality defense tools such as pepper sprays. Mace can be a pepper spray, but every pepper spray is not Mace.
Is Pepper Spray Good for Self-defense?
Oh, yes these are the best defensive gadgets you can use for personal protection. You can not carry guns and pistols all time. but these defense gadgets are quite easy to carry and conceal and undoubtedly, they offer ultimate protection. These are non-lethal but it is better to check their legal requirements and local laws. It is suggested to confirm the expiration date, shelf life, and always try to buy from and trusted brands.
Conclusion
Upon exploring the situation from multiple perspectives, it is clear that pepper sprays are the best non-lethal alternative to guns and other heavy weapons. These are not high-priced and tough to use. You can easily carry it with you in your purse, bag, pocket, or even in your palm. because these devices are super light and sleek.
From my personal experience, I highly recommend Women on Guard for their great service and customer care. It is the best online store I have ever experienced any other. Don't wear out and waste time exploring any other place. Just buy with trust and share your experience by commenting below. Invite your friends, and family members to get the amazing service from this store as well.
Keep smiling and have a safe life! Soon I'll come up with another interesting blog wait till that and keep visiting here!