As a woman, it's essential to keep yourself on the defense at all times. It's unfortunate, but women are seen as easy targets for many attackers. These attackers believe that a woman won't be able to defend herself or fight back as a man would.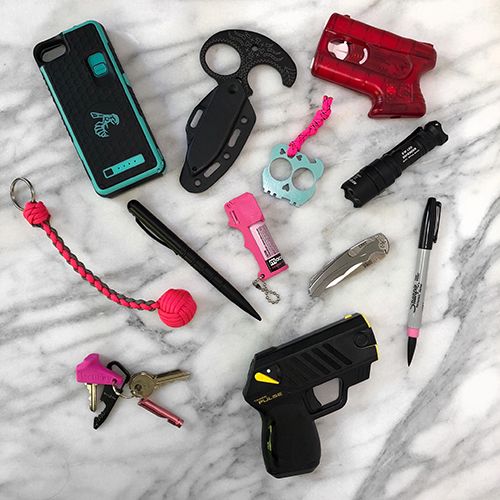 However, that belief is put to rest today. One of the best ways to win in a battle is to use the element of surprise. So, instead of interpreting your gender as a weakness factor, think of it as a hidden weapon of surprise.
Your gender would suggest to attackers that you're easy prey. They don't expect you to fight back or know how to defend yourself, so when you do, it's an element of surprise. Attackers won't expect you to have self defense weapons for women on you.
It's time to keep yourself safe and keep attackers at bay. Here are 7 self-defense weapons all women should consider purchasing!
1. PEN KNIFE
A pen knife is one of the most convenient and best self-defense tools for a woman to own. The pen works well as a functioning pen. You can take it to work with you and use it in your office as you would any other normal pen.
It's a perfect disguise and when suddenly attacked, you can use it as a weapon. A simple pulling of the pen apart exposes the knife, which is used to defend yourself. Because of the fact that the knife is inside a real pen, it's easy to carry on you.
You can keep this knife in your purse, clipped on your jacket, and more. The ink for the pen is easily replaceable after running out. You would replace it just like you would any other pen, making it even more convenient.
2. LIPSTICK STUN GUN
A lipstick stun gun won't come with an actual lipstick piece to put on your lips, but it looks exactly like one. No one will even notice that it's a fake lipstick container. The lipstick stun gun can easily be placed inside your purse, pocket, or any other type of bag.
This stun gun also comes equipped with a flashlight, which comes in handy when you're traveling during the evening hours. The stun gun comes with two different buttons on it, one for the flashlight and one for the stun gun. The stun gun also comes with a power charging cord for recharging the device when needed.
3. SPIKE STUN GUN
If you don't need a lipstick stun gun as a disguise, then consider purchasing a spike stun gun instead. The spike stun gun is just as compact and easy to carry as the lipstick stun gun is. This is the perfect self-defense weapon when put into a close range of your attacker.
The spike stun gun comes with two spikes at the end of it that you can use to jab your attacker with. Hit your attacker in the eyes or throat with these spikes and trigger the gun. It's small enough to hold in one hand and is triggered when the palm of your hand grabs the handle.
4. FLASHLIGHT STUN GUN
Everyone should keep a flashlight on them at all times. You never know when you might need one in your car or in your purse. The flashlight comes with a handle strap that fits around your wrist, keeping it from falling out of your hands.
It works just like a normal flashlight would, but when activated, it releases a powerful stun gun. The flashlight also works as a baton, so don't hesitate to take it with you while going for a walk, hike, or other activities.
5. PEPPER SPRAY
Pepper is another great self-defense tool to have on you at all times. However, why settle or any average pepper spray? Instead, consider purchasing a pepper spray that comes with an alarm and strobe light as well.
Having all of these tools built into pepper spray is the best way to increase your chances of getting away from your attacker. It's also super simple to use. When placed in a situation to use your pepper spray, the other features will activate when you activate the pepper spray itself.
This means your attacker will be greeted with pepper spray, a loud-sounding alarm, and a strobe light.
6. STUN GUN, FLASHLIGHT, POWER BANK COMBO
Another wonderful combo tool to keep by your side is the stun gun, flashlight, and power bank combo. Power banks are becoming quite popular. This is due to the fact that just about everyone has a mobile phone and other mobile devices that they keep with them at all times.
A power bank comes in handy when needing a quick charge. Not only will the power bank charge up your cellphone and other mobile devices https://www.veginspired.com/health/generic-ativan/, but it'll act as a flashlight and stun gun as well. This gives you three useful tools all in one compact device!
7. KEYCHAIN ALARMS
Keychain alarms are convenient because they come with keyrings, making it easy to attach to your car keys, office keys, and others. The alarm comes with a built-in flashlight as well.
Aside from keeping attackers away, this tool also acts as a great tool for any emergency. The alarm that sounds is a 130-decibel alarm, which can come in handy for several different situations.
PURCHASE YOUR OWN SELF DEFENSE WEAPONS FOR WOMEN TODAY!
If you don't own at least one of these self-defense weapons, then it's time to purchase your own self defense weapons for women! As a woman, it's essential that you're always on the lookout for dangerous situations. Carrying these items on you is the best way to keep yourself safe!
Need home security safety tools as well? Click here to browse through our products.