Everyone has the right to feel safe, and they should have this anywhere and everywhere they choose to go. However, it is not the reality, and as a woman, you need to be protected. You can do that by joining the thousands of women choosing to carry a stun gun.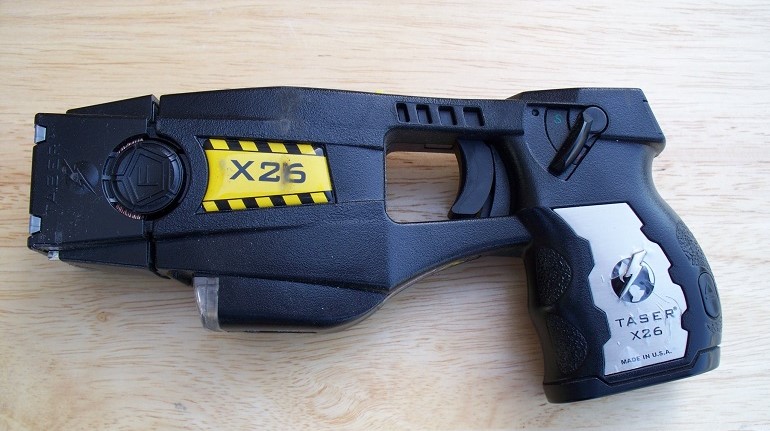 Stun guns are hidden, no lethal means of self-defense that are inexpensive and could save your life. Below, we discuss the best stun gun on the market for every need and why you have to get protected.
What Is the Difference Between a Stun Gun and a Taser?
A stun gun is a small weapon that is primarily used for self-defense. It is nonlethal and incapacitates an attacker by delivering a high voltage charge to them. This is done when the defender puts the stun gun into contact with the attacker's body.
A taser is different, in that it fires a dart that has a small cable attached. Once the dart embeds in a person's skin, the person firing can choose when to use the electric shock. It can be done from a distance, 15 feet, which is not an option with a stun gun.
Why Do I Need One?
You may not need one if you feel that you live in a safe area with a zero crime rate. But for anyone else who wants to feel safe and protected, a stun gun is a great option. It is non-lethal, unlike a handgun, and is smaller, lighter, and costs less.
Stun gun laws vary by state. In some places, they are legal, in others they are not. If you find yourself in a state where they are banned, then consider pepper spray as an alternative.
Best Stun Gun on the Market
Before you look at which stun gun is best for you, you need to consider a few factors. The first of these is the Aamps then the voltage at which the gun operates. You will need a stun-gun that operates with at least one million volts worth of shock for it to be effective.
The second is the size of the stun gun. You need a weapon that is easy to carry and conceal. Smaller models are easier to carry, and you can even get some stun guns disguised as other items for concealment.
Thirdly, check the ease of use. Many stun guns will have safety mechanisms to prevent accidental usage, which are highly recommended. However, you need to weigh this up against the practical implications of being able to use the weapon quickly in an emergency.
Finally, check its power source. Replaceable batteries are fine, but built-in rechargeable batteries will typically deliver higher voltage shocks.
Best Concealed Stun Gun
The Smart Cell Phone FRiPHONE and the Lipstick Stun Gun are probably two of the best-concealed stun guns available. It looks identical to the famous branded Apple mobile but packs a whopping 14 million volt shock to anyone who comes close. The stun guns also has a wicked crackle when the voltage is pressed, intimidating any would-be assailant.
They have an extremely slim and light design, making it easy to conceal and carry. In addition, they also have a handy LED flashlight. However, the FriPhone's greatest added feature is the piercing alarm system that is guaranteed to send anyone running for the hills.
Strongest Stun Gun
The Jolt 86 Million Volts stun gun is one of the best stun guns for self-defense. After a hit so powerful, no one will be in any position to come at you, giving you ample time to act.
The stun gun is so powerful due to its triple pin technology. Whereas most stun guns only have two points of contact, this three-pronged approach allows a bigger delivery and a louder crackle. If the noise does not send them running, then the power will certainly knock them out.
Best Cosmetic Disguise
There are a number of stun guns that disguise themselves as cosmetics, such as lipstick and perfume. However, lipstick uns tend to deliver a lower voltage, so we recommend the Streetwise Perfume Protector with its 17 million volt stun.
The device looks like a normal perfume spray. It is small and lightweight, so can fit into a pocket or bag easily. It is rechargeable and comes with a handy LED light, strong enough to blind an attacker while you make a quick getaway.
Safest Stun Gun
One of the safest stun guns is the Safety Technology Trigger, which comes in a range of colors and patterns. It has a specially designed trigger that makes it easy to operate, along with a wrist strap disable pin for extra safety. It also has a durable rubberized coating allowing you to have a tight grip on the weapon at all times.
Due to the wrist strap safety feature, if an attacker takes the weapon from you it will render it useless. This works by attaching the strap to your wrist. Once the unit leaves your hand, a pin is pulled, that stops the device from being used once more.
Best Stun Gun Flashlight
For a stun gun that disguises itself as a flashlight, we recommend the Jolt Police Tactical Stun Flashlight. Not only does it look like a simple torch, but it also has a huge 95 million volts that are perfect for bringing down any assailant. It is excellent for keeping in outhouses or garages as protection from any would-be burglars.
The flashlight itself is actually very powerful, allowing for 200 – 250+ lumens. Thus, it can be used as a double feature, to disorientate attackers and shock them.
Purchasing a Stun Gun
Now you have read about the best stun gun on the market, you just need to decide which weapon bests suits your lifestyle and budget. Remember to check the legalities in your area or state regarding the carrying of stun guns and concealed weapons.
We have a whole range of stun guns and personal defense weapons available on our website. Come and browse our stock, or contact us for more help and advice so we can begin protecting you starting today!