Hello everyone, I'm back with another intriguing blog post on knives.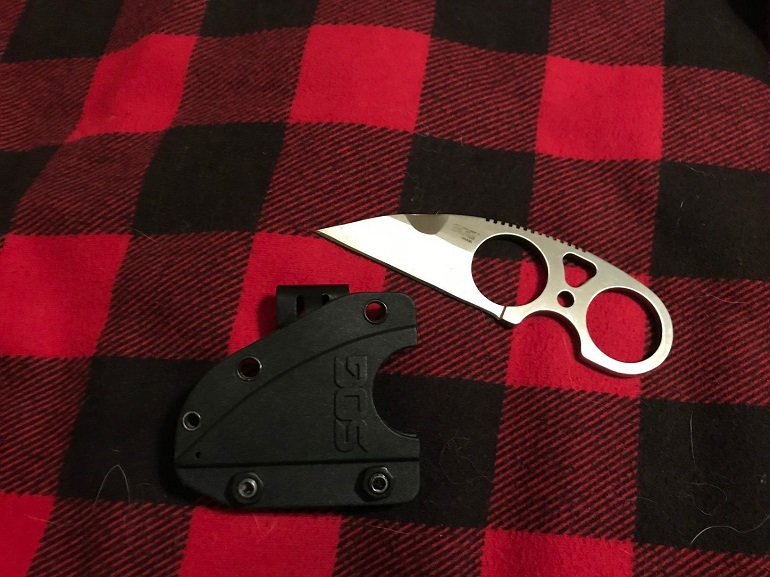 While growing up in a rural region, I like using blades daily. So I've always had one attached to my pocket, whether I was making spears out of sharpened points while sitting in front of a toasty camp or slicing strings from straw bales.
I've had to pull a fast one on more than one occasion to defend myself. Not just with people but also with animals I've met on hikes. Although a handgun would undoubtedly be a more effective defense tool to stop attacks from humans and animals, not everyone has access to one. A knife is also a deterrent that may use in many situations.
A neck blade might be your most crucial tool in a post-apocalyptic scenario, a survival crisis, or another day. They serve as both a workhorse tool and a defensive option.
However, you can only use a knife for defense if you can rapidly get your hands on it!
One benefit of neck knives that I like is that you can reach out and swiftly grab them without worrying about digging into your pocket.
Let's begin by understanding what a neck knife is in reality.
What Is a Neck Knife?
Let me clear first that the term "neck knife" is misleading. How could a knife be kept in a person's neck?
Wouldn't that be extremely unpleasant, if not dangerous? The name derives from the days when knives were worn around the waist and possibly attached to a string or chain worn around the neck for convenience.
The advancement is a blade slung around the neck, typically a lanyard. This was customarily done because it made accessing a holster concealed under the belt easier than reaching behind one's back.
However, most modern users would wear it around their necks to easily retrieve it in an emergency, such as if they need to cut themselves free from a rope or piece of netting while keeping the knife flat against their chest.
The average blade length is between three and five inches; however, some knives will be substantially longer and more difficult to carry. The handle is typically between one and two inches wide and could have scales with texture for improved grip.
Six Basic Reasons To Carry Neck Knife:
Before we get into the specifics of selecting the best knife for your needs, it's important to understand that neck knives aren't just for fashion or to look cool.
Here are a few more reasons to carry one:
Simple to use
It can be worn even if your pants do not have pockets
Effective as a backup weapon
Bushcraft
Fishing and hunting
Neck knives are frequently small and easy to conceal.
Some Important Considerations To Keep in Mind When Looking Forward to a Neck Knife
Now that you know the benefits of neck knives, it is time to consider what to consider while purchasing one.
Ask yourself these questions before making a purchase:
How discrete does it have to be?
Are you searching for a knife that you can conveniently store in your boot while not wearing it around your neck?
How long a knife can you handle comfortably? Are longer handles on knives necessary for you?
How frequently do you plan to use your neck knife?
Does the knife need to be useful for bushcraft, camping, and personal defense?
How much can you spend?
Now it's time for you to interact with my top picks, which I've listed below. I compiled this list after extensive research and discussions with my friends, one of them is a hunter who daily practices different blades, the other friend is working in a knife store, and the other is serving as sheriff.
Best Eight Kneck Knives for Self-Defense
It might get difficult for you to find necklace knives in most stores. You would probably have to go to a specialty knife store if you could even find one. But, gratefully, you can find many neck knives on Women on Guard. They are selling multiple types of neck knives, you can imagine.
I have listed all the best neck knives. Let us get started with the first one.
1. Cold Steel Mini Tac Tanto 49 HTF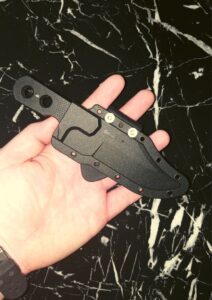 The team of cold steel is well known in the knife industry for its quality and affordable blades. Before using this knife, I wasn't a fan of kneck knives, so I needed to work in the woods, and bushes and branches easily catch neck knives. But, one of my friends gifted me this knife. And I have to confess it was a mistake to ignore it.
The fixed blade knives are in a belt sheath, making it much easier to quickly get a neck knife out when sitting down in a tight space. However, it would be really good if Cold Steel included a belt clip option on this sheath, and I wish the handle were a bit longer to make drawing the knife quickly and securely a little easier.
Still, this is an excellent knife for the money, and I highly recommend it, especially as a car knife. This is a field, and EDC neck knife features the qualities of the best neck knives for defense available in the market.
Specifications
Blade length 3.75."
Blade type Tanto
Full tang knife
Secure Ex-neck sheath
Bead chain lanyard
Handle material G-10 alloy steel
Polymer sheath
Price range 25-30$
Plain blade edge
2. Ka-Bar TDI Law Enforcement Knife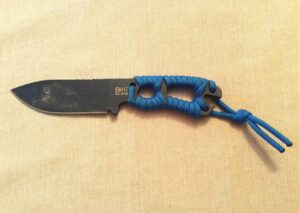 A collaboration with the tactical defense institute, KA-BAR has designed this high-quality neck knife. As a result, it is considered the best self-defense neck knife compared to other neck knives for self-defense on the market. In addition, this best neck knife features attributes such as easy access, easy to draw, and extremely comfortable better grip.
The KA-BAR neck knife is easy to carry on your hip and around your neck. While carrying out around your neck knife, it becomes easy to combat a situation where it is difficult to get the primary weapon.
Additionally, this fixed blade knife also comes at a reasonable price. Some people think the fixed blade is not long enough, but I want to tell them this feature makes it easy to conceal to avoid situations rather than exposing it. It is highly adored by law enforcement and an ideal option for personal defense.
Specifications
Blade length 2 5/16″
Stainless steel blade
Glass reinforced nylon handle material
Black handle
Drop point blade length and shape
0.4 pounds item weight
Non-reflective black coated sharp blade
Available under $50
3. ESEE Knives Izula II Knife
This Izulla knife is considered the best lightweight knife among other lightest neck knives. It is also famous for its powerful sting and skeletonized handle shape. The upgraded sheath gives top-level retention and eliminates the tension of being fallen out from it. As the best bullet ant, it delivers a deadly sting and can give your assailant a tough time.
This version of the kneck knife has super comfy removable Micarta handle scales that enable the knife to be an excellent option as a small survival camping-type knife. It always feels super when a good neck knife gets upgraded and gives it a distinctive edge among other chain knives.
To avoid rust and corrosion, try to maintain the blade on the proper schedule. The injection molded sheath of this knife makes it a versatile tool. Using the included clip, you can wear it around your neck or set it up for horizontal or vertical carry on a person's belt. There are only two bolts involved, so it is pretty easy to convert in the field, even if a campfire is your only light source.
Specifications
Blade length 6.75."
Drop point blade style
Micarta handle material
Weight 3.30 oz
Outstanding 1095 steel
Lifetime warranty
Made in the USA
Delivered with belt clip
Price range $79-&112
4. Smith & Wesson M&P Guard Black G-10 Neck Knife
Although Smith & Wesson is a well-known brand for making firearms, they also earned the love and trust for making the best knives. These S&W knives are the best companions in every situation. Whether a hunter, survivalist, knife collector, or first responder, this chain knife benefits everyone.
This neck knife is a fixed blade extended tang model, and Its full tang goes beyond the handle and ends with a cord hole. The metal finish is unique and might resemble slightly with a Damascus steel look. The Smith & Wesson M&P neck knife is easy to carry for a person at all times. The knife is a classic drop point design. Its sturdy handles are added for a nice grip without wrapping in paracord.
The full tang stainless steel blade has a black stonewash finish. This neck knife is best for outdoor use, such as camping, hunting, and field use. It is also perfect for everyday carry use with the best quality. This neck knife is durable, lightweight, and secure. It means the blade doesn't slip with the security of a finger guard.
Specifications
Blade length 3.25″.
Balde made with stainless steel
Handle length 3.75″.
Nylon sheath
Black stonewash finish
Overall Length: 7.00″
Available in multi-color
Right and left-hand use
Price $21.95
5. SMKW Exclusive CRKT Foltz Minimalist Bowie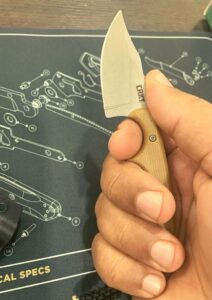 This is one of the most interesting models by the CRKT minimalist, and the series has steadily grown over time to include a vast range of blade shapes, including cleaver, clip point, drop point, spear point, and tanto variants. However, all of them have three things in common.
It is amazingly lightweight at just over two ounces when sheathed, and the minimalist gets its moniker from the spartan nature of the handle. Although it is designed only for three fingers, the full-tang construction, micarta scales, and deep finger grooves ensure you maintain a secure grip. In addition, it is an upgrade over the normal green resin-infused fiber scales, making it a little gripper when wet.
With normal blade maintenance, you can easily prevent rust from forming. In addition, the hollow-ground blade allows for a very sharp edge and is easily re-sharpened; the paracord lanyard and adjustable belt clip make it easy for you to carry it the way you want.
Specifications
Blade length 2.13″.
Upgrdaded D2 blade material
Bead-blasted blade finish:
Clip point blade shape:
Micarta Handle material
Resin-infused fiber handle
Weight 1.6 ounces
Weight with sheath 2.2 ounces
Zytel sheath material
Price $23.08
6. SOG Snarl Fixed Blade JB01K-CP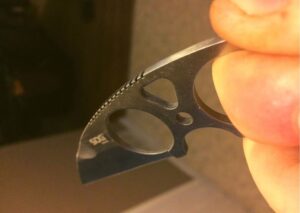 As you know, SOG is the trusted brand for designing high-quality weapons. This little champ is an amazing gift for discreet knife carriers. Firstly, the knife is secured in a Kydex sheath perfectly, a black molded Kydex sheath with a black stainless clip, and will not fall out on its own. In addition, the horizontal drawing will help you to carry it if you want to wear it on the belt.
Carry it on your boot or belt with its clip-equipped hard-molded sheath, or you can keep it around your neck with the included chain, and it is a dangerously discreet, easy stow that's all bite and no bark. The master knife maker Jason Brous has designed this full-tang sheep foot which offers multiple grips and carrying options that support maximum control and minimum exposure.
This neck knife is perfectly fit for use as a pocket knife. SOG also offers repair and replacement on the requests by the customers. This incredible option is the best fit for hunting and outdoor use. This every day carry neck knife is completely durable and easy to access. Incredibly, you can get the benefit of a multi-tool gadget from it.
Specifications
Blade length 2.3″.
Overall length is 4.3″.
Stainless steel handle
Molded nylon lanyard sheath
Clip pointed blade style
Stain polished full tang knife
Item weight 0.02 pounds
Serrated edge type
Price $39
7. Ka-Bar BK11 Becker Necker Neck Knife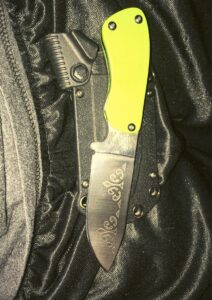 I love this quintessential knife for its robust design, affordability, and great customizability. Its great sheath is considered a standard feature that strengthens your buying decision. The Becker Necker did a wonderful job here.
The material is made from injection-molded, glass-filler nylon, which is robust, portable, durable, and stiffens the blade. This Kydex sheath will serve your need if you want to mount your knife with a TDI belt clip. Ka-Bar epoxy-coated the blade to help it resist rust in an intense situation.
Lastly, it is made from 1095 Cro-Van high carbon steel, which makes it a super sharp, tough, and time-proven blade. This large neck knife is great for some hunting knives but not large enough to make you uncomfortable wearing it around the neck with the included paracord lanyard. You might feel it quite heavy than other neck knives.
Specifications
Blade length 3.25″.
TDI metal belt clip
High carbon steel
Bead blast finish
Lanyard hole
Blade material 1095 cro van
Weight 0.15 pounds
Flat grind
8. Hogue EX-F03 Hawkbill
This neck knife resembles the kiridashi of Japan and gives it the super treatment. This brand has built a reputation for producing high quality. It's made from sturdy steel with a solid balance of edge retention, corrosion resistance, and toughness.
This small knife ensures a good grip while maximizing cutting potential. The black texture provides an extremely comfortable grip, which is as ergonomic as the rest of the other blades provided by this brand. In addition, these neck blades are slightly hollowed out on the inside. Combined with the skeletonized tang, this helps keep weight while providing a space to store smaller items.
The finger ring is part of the G10 handles, which means you can make the EX-F03 shorter and lighter simply by unscrewing the scales. Included with the knife are two sheaths to ensure security and comfort. In addition, the sheaths allow you to insert the neck knife with the orientation for both right- and left-hand draw, which makes this even more lovable as a multi-tool.
Specifications
Blade length 2.25″.
Stonewash blade finish
Boltaron Sheath material
Handle material G-10
Hawkbill blade shape
Made with 154 cm quality steel
Made in the USA
Includes two sheaths
Weigh 3.13 ounce
Price 3$9.99
Buying Guide for the Best Neck Knives
I have listed above all the best possible Knives or your assistance. I made this list after massive research and with the consultation of my friend working as a Sherrif. These knives are becoming more often carried by people today.
A major advantage of doing that is the simplicity and convenience at your fingertips at any moment. These blades fill the gap as a flexible instrument as a result. s I stated, the following is a buying guide that explains the main features to keep in mind while buying a neck knife based on the sheath, material, weight, and shape specifications.
Let us have a look!
Sheath
The first standard l suggest checking out is the knife's sheath; no matter how expensive or comfortable the knife is, if you cannot carry it securely, surely you cannot use it whenever you need it.
Also, the idea of constantly having a knife with you, especially when you wear it around your neck, undoubtedly makes you feel secure and guarded, and you carry your knife mostly around rather than your boot, hips, etc.
The blade always points upward to make drawing simple. However, the knife will certainly fall off each motion if the sheath does not offer tight retention. Therefore, a chain blade with a high-quality sheath that secures the blade despite considerable movement is essential. The sheath's quality, go for a run or a hike with your knife.
On the other hand, you want a simple knife to remove in emergencies like self-defense or animal encounters. Also, sometimes it becomes difficult to use both hands to manipulate the sheath.
So practice makes it easy for you to draw one-handed—this results in choosing sheaths with high retention. Kydex's weight is light compared to other sheathes, but nylon and other materials also work fine; you can choose according to your preference.
Material of the Kneck Knife
When it comes to sharpness, a knife's substance immediately informs you. There are three main types of steel on the market: carbon steel, alloy, and stainless steel. Since they are frequently more susceptible to corrosion, carbon steel blades are simple to sharpen.
On the other hand, the stainless steel variants offer substantially stronger corrosion resistance but have worse edge retention. Keep in mind that all tools need to be re-sharpened. The blade cannot be used indefinitely without being re-sharpened. Steels used for blades are enhanced with additional elements called alloy steels.
It is these additions that give multiple types of steel their special properties. For example, alloy steels that have additions to make them corrosion-resistant are labeled stainless steels, and these are the steels most commonly used in making blades.
Among all, high carbon steel is considered the best high-quality material. However, whatever material a knife is made of, the care and maintenance of the blade must make it a long-lasting weapon. So, if you invest extra cost and neglect your weapon, you'll lose the quality, sharpness, and functionality.
Weight
Frankly saying, no one wants to make his neck carry weight around. But these blades are fantastic since they are not heavy. Carrying something hanging heavily from a cord wrapped around your neck is inconvenient. It depends on your strength.
The knife's material is either a blade or handles; they reduce weight or increase it. When you wear them around your neck, you feel your self-defense is more practical because these blades are pretty handy. The handle's shape, Kydex weight, sheath material, neck chain, blade length, and overall length decide whether the entire knife is light or heavy.
Some people can carry their hunting knives around, but others are not. Since our bodies are designed to adapt to new challenges, you should use it on your neck for at least two weeks. When you feel more at ease using the knife after two weeks, keep it. Get rid of it if you still feel it to be a burden.
Shape
The best neck knife is not only made with high quality, but it is well shaped so that you don't feel any burden or difficulty in use. There are multiple options on the market with interesting shapes. In addition, some best neck knives are designed the way you can use them with your index finger grip or one-handed draw orientation.
If we talk about the shape, it depends on you. What do you looking for in the knife for your use? What will you be doing it with? For everyday carrying, camping, or self-defense? You do not want to buy a dull, boring knife to carry all day or a thin short knife with a finger hole to assist camping activity. A short, tiny knife with a sturdy sheath is good for self-defense.
The bowie shape is fine for all-around and extended use. However, you need a drop-pointed blade for more precise execution, such as preparing food and wooding. Which scene do you think a long blade fits in? There is no denying that buying a neck knife has become necessary for many people; some use it as an EDC neck knife, while others do it for other tasks.
FAQs
Q Are Neck Knives a Useful Tool?
Everything depends on how you want to use it. For example, it will be slower to access than many alternatives, not to mention smaller, if you're concealing it for self-defense.
On the other hand, bringing it daily will probably be useful for the occasional task. The smaller handles, however, are often not comfortable for prolonged usage.
After that, I usually carried it as a great back up knife. This neck chain EDC knife is also used as a bottle opener because it has easy access without eliminating more force to use in critical situations.
Q  Chain Knives Are Common, but Are There Other Alternatives?
Yeah. A few knives have been placed in my boot, pocket, or belt. Additional shoulder hitch configurations can provide even more concealment.
Q Is Neck Knife Legal?
It is prohibited to carry a concealed knife in several US states and many other nations. Therefore, you must carefully study whether carrying a neck blade is permitted by your state, local government, or country.
Most states allow these blades; however, local regulations and your state's knife laws may differ. Laws that restrict the length of your blade or forbid carrying concealed fixed blades may significantly reduce your alternatives.
A Bonus Word of Wisdom
I've personally purchased defensive equipment from Women on Guard. This is the most reliable internet retailer that treats its consumers well.
You may get different blades such as balisong, pocket knives, or self-defense weapons from this shop. You'll no doubt be pleased with their services. Don't forget to comment below with your experience.
Conclusion
If neck blades can satisfy your wants and preferences, you will become pleasant and comfortable while using them. Remember that various aesthetic designs and fashion trends are available, so take your time and look around.
I can tell you from personal experience that after you get used to carrying a neck knife, you'll discover that it becomes more and more helpful. You'll discover new applications for them, and who knows, they may eventually turn into a necessary item that you never leave the house without!
You now have the list and the recommendations. Choose one from my list that fits your needs as long as you want, and you'll be happy you did.
Otherwise, you learned what the best knife is about, right?
Do not hesitate. Get your blade now. Do not forget that no product is flawless. Future versions of the items on the list might be superior ones.
Remind yourself to check again.