When I was sitting in my TV lounge last year, holding a cup of coffee in my hand and a blanket across my shoulders, I was aimlessly flipping through the stations. I refrained from switching channels more because of breaking news on one channel.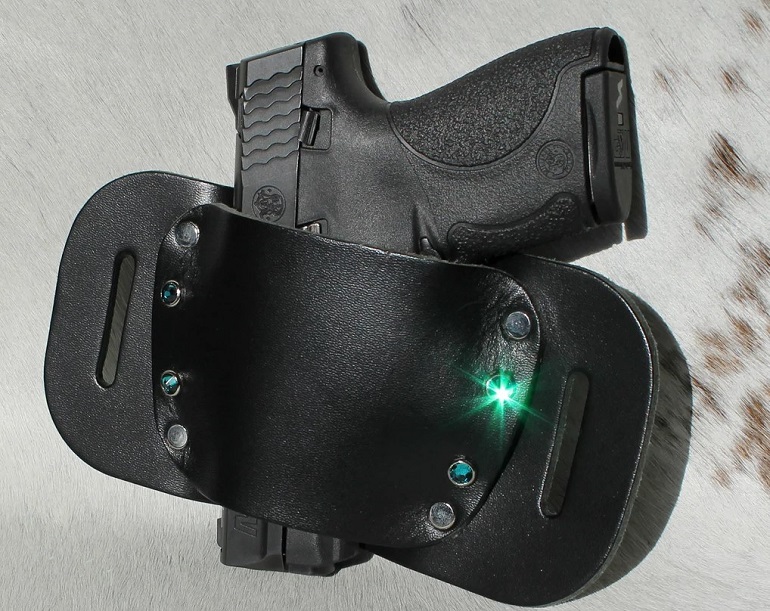 The shocking news was that a college student had been murdered and raped by an unknown person. It frightened me. I have two young daughters and am a college student.
I considered what level of protection I could afford for my girls since I didn't want them to become the unfortunate victims of these crimes. I want them to have power. Before purchasing some standard presents for my twin kids, I simply changed my mind and chose instead to provide them with something that they could use to defend themselves.
Then I gave these products not just to them but also to my friends, nephews, and nieces. It's time to alter your thought habits; just start thinking creatively, and remember that self-defense is your responsibility if you want a strong nation and culture.
You know, sometimes when people matter to you, you save penny by penny to get them a gift. And even after that, you sometimes think a lot about the best gift idea for the special person. And thus the most important thing about gifts is that the price of the gift does not matter, the value of the intention matters.
People mostly earn for themselves and are pretty busy nowadays, so if someone took out the time and spent even a penny on just you that means they value you.
So, the best way to add value to the life of someone is to make them feel confident and invincible. What is more important to gift a defensive gift then?
We all have a part to play in empowering our women, therefore I'm doing my part by giving them defensive stuff rather than typical kid-friendly presents.
I'm creating this blog to raise awareness and to share my story in the hopes that it will help you make some positive changes in your own lives.
8 Best Gifts for Women
Gifts have been a part of every culture and society of our planet from times unknown. We gift various things to people on various occasions. I have made this list with my personal experience. I also reviewed my friends and family members to whom I gifted these items after their positive responses and amazing experiences with these products I made this list for you to assist you in the selection of the best gift for your loved one.
Let us get started with the first one:
1. Holster Shirt by Concealed Carry Wear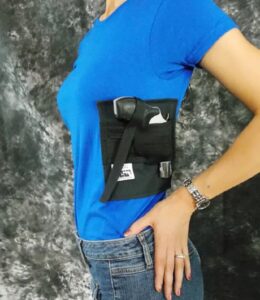 Are you tired of gifting ribbons, perfumes, heels, and chocolates to your loved ones? Looking for something different? What is the best gift you can give to whom, you care most? Well, you will love to gift something more worthy than just resting idly on the shelf of the drawing room, or in the cupboard.
Shirts are a great gift for every season but are shirts made specifically for concealed carry? Oh yes, a concealed carry shirt could be a killer gift for your gun lover friend. A gun's like a woman, son, it's all how you hold her. A holster concealed carry shirt is the finest option to carry a gun perfectly in its place.
The concealed carry holster shirt is classically stylish, comfortable, lightweight, and comfortable. This holster shirt for ladies is extremely versatile and it provides ultimate ease whether you are sitting at your desk, riding your bike, working in your backyard, or going for a running or jog.
This concealed carry shirt is amazingly beneficial for professionals and civilians. The most fantastic feature of the shirt is its extra pockets on each side for carrying a cell phone, handcuffs, magazines, and other accessories. Its soft and anti-bunching fabric is comfy for all-day carrying. This skin-friendly holster shirt is available in multiple colors and sizes. Make yourself protected in all seasons and conditions.
Specifications
95% polyester, 5% spandex
High-quality breathable fabric
Machine washable
Tumble dry low
Moisture wicking & anti-odor
Stretchable & compression fit
Ambidextrous
2. Packin' Neat Purse Insert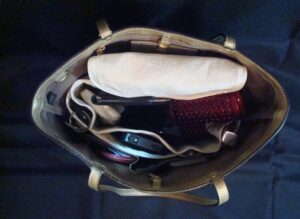 You'll be surprised to know the love of a lady for a handbag or purse. One of my friends once said, "If I could be reincarnated as a fashion accessory, it would be a purse". Now on her birthday, I decided to gift her a purse that is more than a regular handbag. It is a Packin' neat purse insert.
This could be a great gift for any bag lover who wants to carry a gun in her purse and keep it in an organized manner. Regular purses aren't able to conceal the guns and keep other stuff in their places. A concealed carry purse by Packin' neat is a high-quality, durable purse insert with a holster designed to separate your firearm from the contents of your purse and organize it at the same time.
This specialized holster-designed purse is made of durable and forming products, this product combines a purse organizer with a holster to keep your firearm positioned correctly and isolated.  The firearm is stored in a downward-facing direction to allow for quick and easy access when you need it.
If your purse allows, it is recommended to cross carry with your hand inside your purse and on the weapon in areas you feel you are vulnerable. The design of the holster works best when the organizer contains multiple miscellaneous purse items which keep the firearm in an upright position.
Specifications
Made with 100% nylon
Offers a removable holster option
Integrated firearm holster
Economical
One size fits for medium and large purses
One magnetic snap
A patented design with five pockets
3. Streetwise Sting Ring Stun Gun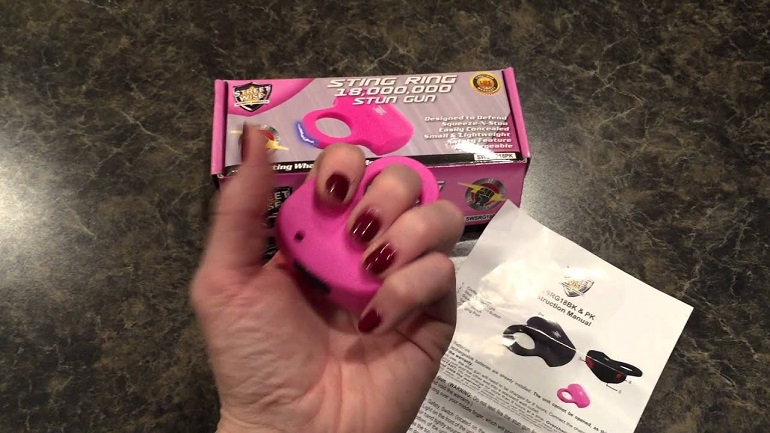 Are you looking for a self-defense gadget that you can carry while walking jogging, and running alone? To serve your need, Streetwise is offering a sting ring stun gun to make you feel safe and secure while you are walking alone.
Its shape and design make it easy to use and carry. You can easily make it fit in your purse or pocket without any worry. Streetwise has designed this sting ring in a way that it can slide over your finger and sit perfectly in the palm of your hand.
Its built-in rechargeable battery and USB cable make it easy to recharge. When it is needed, a simple squeeze of your fist will ignite a powerful spark of electricity that can disable the attackers. It is the perfect gift that you can present to anyone whom you make feel safe and secure.
This tiny defensive gadget comes with a lifetime warranty. One thing that you should keep in mind when you after purchased is that it needs to be fully charged for two hours, otherwise it wouldn't function properly.
Specifications
Squeeze-N-stun technology
Releases 18000,000 volts of electricity
On/off switch
Built-in rechargeable battery
Weight 0.32 lbs.
Lifetime warranty
90 days money back guarantee
Prevention from unintended discharge
4. Bagheera Holster by Buffalo Holsters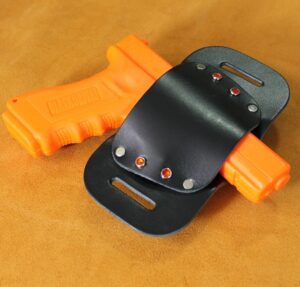 How can I forget to add a holster to the gift list? Holsters are considered the best gifts for women either they carry or conceal them. Holsters are highly comfortable, concealable, and safe. When it comes to gifting a holster to a lady, nothing is more sturdy and perfect than "Bagheera holsters by Buffalo holsters".
It is very comfortable outside the waistband carry holster, and to make it inside the waistband carry just you need to throw on a sweater. These holsters are extremely helpful when you are out of rage. Isn't it amazing?
These holsters allow you to carry a gun belt, such as the belly band or corset holster. These holsters are comfortable, safe, and durable. It comes with shiny crystals that make it more gorgeous but you can get it without crystals as well. It can easily contour according to your body shape. It works great for left and right drawing easily.
It is designed to make your gun in place securely. This leather holster will accommodate a multitude of handguns such as subcompact, compact, full size, and 1911-style pistols. With an open-top draw, this versatile holster is a superior choice for defensive everyday carry.
Specifications
OWB holster
Leather made
Genuine Swarovski crystals available in 3 vibrant colors
Fits belts up to 1 ½" wide
Handcrafted
Made in the USA
Specially designed by women for women
5. Spike Self-Defense Keychain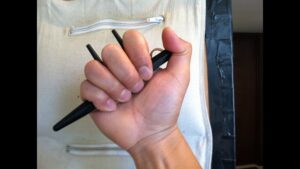 If you are looking to gift a self-defense weapon that can be used at any moment, look no further than spike self-defense key chains. These are stylish, compact, and effective safety gadgets. Spike self-defense keychain is handy is a non-lethal, high-strength, and solid handy safety tool.
To make it more attractive it is designed with elegant artwork on both sides, and it also comes in a multitude of stunning patterns. You can easily carry it in your hand or wear it on your fingers. The spike self-defense key chain gives a secure grip with its two finger rings. It is available in multiple colors.
While keeping the keychain around your fingers, and keys dangling on the other end you can stab your attacker from the front or backside. The spikes can make the attacker feel pain when you hit them with full force.
You can disable your attacker by not only stabbing with the spikes but with the freely hanging keys you can swing it and slash your sacrifice. This versatile defense tool just can't be beaten. Also, it comes with a lifetime warranty.
Specifications
Impact-resistant plastic
Secure grip
Compact design
Multiple colors
Two sharp edges spikes
Lifetime warranty
Multitude of stunning patterns
Solid
 6. Sabre Personal Alarm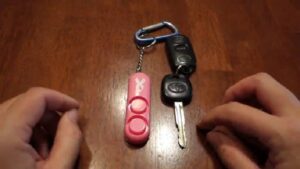 Say Hello to Sabre's alarm, which is another defense tool to gift a lady. Sabre is a trustworthy brand for providing the best self-defense tools. This could be the best gift to whom you want to see safe and secure.
It comes with a keychain to carry keys and other items. Make sure to use those it won't do you any good at bottom of a purse or buried in. With the keychain, you can attach keys and attach them to your bag as well. This extremely loud alarm is suitable for self-defense for any age group.
The compact size, high functionality, and quality design offer on-the-go ease to use in critical situations. There are a couple of big benefits they provide to enhance your security. With this smarty, you can disrupt or startle your attacker in no time.
Furthermore, it allows you to escape and also go back to being a heart making yourself a hard target if they are going to draw witnesses that loud sound that can carry over four football fields perhaps is going to draw people to your direction they are going to look into your direction.
Specifications
Dual siren alarm
Range up to 1000 feet away
User friendly
Sleek and modern
Compact design
Broad consumer apparel
Sturdy snap clip
7. Pepper Spray by Mace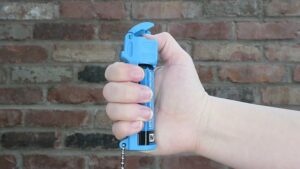 When finding the best gift for women which is practical and unique, nothing is more perfect than a mace pepper spray. For the special woman in your life, it could be the best present for her. Pepper spray will not only give her peace of mind but a make her feel more comfortable and defended.
This pepper spray has a safety cap which helps to prevent accidental discharge. With the help of a finger grip dispenser, it becomes easy to aim in critical situations. This pepper spray has a compact design along with a keychain. Ideally, you can keep your keys and hanging belongings with you.
Pepper spray is extremely beneficial for the defense purpose in tough situations. It is made with a powerful formula. This OC pepper spray causes coughing, respiratory distress, impaired vision, and an intense burning sensation on the skin.
Additionally, the UV dye feature leaves a long-lasting residue to help in investigation and identification. This amazing pepper spray is easy to use and access when you need it. Every unit comes with an expiration date so replace your unit every 3-4 years.
Specifications
Flip top safety cap
Actuator button
Nozzle
Finger grip
Canister
UV dye feature
Powerful OC formula
Built-in key chain
Contains 15 bursts with a range of 10 feet
8.  Fifth Avenue Waist Pack by JanSport
Are you considering giving someone a present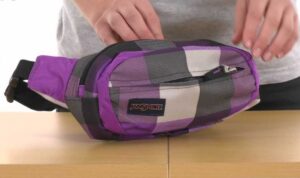 that is distinct from a typical tote but serves the same purpose? If so, this is the ideal pouch that is incredibly simple, cozy, and adorable. Let me tell you about the amazing features of this cutie!
I've been carrying this handy and roomy waist pouch virtually every day since my mother gave it to me a few years ago. It can be used to carry anything from your phone, wallet, keys, or pepper spray to a revolver. You can conveniently access your items thanks to practical zipped pockets. You can pick from 5 available colors to suit your preferences.
With the JanSport Fifth Ave fanny pack, you can keep everything you need close at hand. You can wear it as a sling on your back or around your waist thanks to the readily adjustable strap. This waist pack is available in several vibrant prints that will accompany you on all of your adventures. I shared my personal experience and made recommendations so you may choose it confidently for your loved one.
Specifications
Recycled polyester main body fabric
Zipper front pocket
Adjusted strap
Adjustable waist belt
One main compartment
Available in different colors
Weight 0.1 kg
Important Considerations While Buying the Best Gift
When you aim to gift something to your loved ones it is important to keep in mind some important considerations, especially when you plan to gift a defense tool.
The Gifting Principles
Even though you can't go to the mall to buy a present for your lover, make sure the one you choose online satisfies these criteria.
Usefulness
You don't want to give them something useless. To determine what they require and provide it. Consider whether the present is reusable. When it comes to gifting something like a defensive device it is important to make sure the usefulness of the product. For example, if the person whom you are gifting is working as a law enforcement agent, a concealed carry short or holster will be a perfect choice.
High quality
The most important thing to keep in mind is its quality. You'll be remembered by your loved one whenever he/she will use your gift. Their experience with your gift will make a memory of yours either positive or negative. Make sure the item is of the highest quality and may be reused. It need not be prohibitively pricey. So, never compromise on the quality of your gift whenever you decide to buy a gift.
It Is Still Secret
A surprise gift is priceless but on top of that, it shows you are being valued and thought for. Isn't it mesmerizing? Making a gift a surprise is the finest way to give it to someone. Present it, for instance, the day before they anticipate it.
Don't Forget the Little Things
Lastly, buying a gift for someone is a kind gesture. However, presentation is everything. People tend to forget about the little things like cards and wrappers when shopping online. However, some sites will wrap your gift before delivering it. Check if the option is available or do it by yourself. It will show your love and affection for your beloved.
FAQs
What Is the Best Thing for a Woman To Carry for Self-Defense?
It all depends on your choice. Because sometimes it is not the weapon you are carrying but the way you use it that becomes more important. Always carry a weapon that makes you feel confident and you can use it with ease and confidence. If you are carrying a gun, but you got panic or drop it in a situation when you need it, it doesn't help you at all, So it is purely your own decision that what is the best thing for self-defense you found more effective and comfortable to use for yourself.
What Women Can Carry for Safety?
In the list given above, I have mentioned all the best possible options for women to carry for self-defense. It is suggested to check the legal regulations or local laws of your community before purchasing a product. Women can carry any self-defense tool for their safety which is easily accessible, comfortable for them, and make them feel empowered.
What Is the Best Weapon To Carry for Self-Defense?
According to my experience and suggestions, a pepper spray or stun gun taser is the best choice for a woman to carry for self-defense purposes. A pepper spray is one of the most well-known and one of the best self-defense products for women.
The less-lethal self-defense weapon allows you to incapacitate an attacker from a distance and is very effective. Nothing says, "Don't mess with me" like a good electric shock. Tasers are one of the most effective self-defense weapons that women carry and they work wonders.
Final Thoughts
As you know, safety, security, and peace of mind are the result of carrying one of above mentioned essential self-defense tools for women. It doesn't matter if you're walking to your car at night or enjoying a stroll in the park all by yourself, having one of these protective weapons in your pocket or purse will make you feel secure and confident.
Numerous options cater to the comfort level of every prospective weapons carrier. From extreme noisemakers that are subtle enough to use as decor when not in use to stun guns and pepper spray pistols that are low-key and fit in your bag, if the worst happens, you'll be armed and able to get away to get help.
Lastly, I would highly recommend one of the most trustworthy online stores" Women on Guard" which is delivering high-quality self-defense weapons in a wide range.  You can get any kind of defensive weapon from this store with trust.
Buy now and add colors to the lives of your loved ones by gifting these defensive items. Don't forget to share your experience by commenting below!